CONTEMPORARY DANCE IN ARGENTINA:
TECHNIQUE, COMPOSITION AND PERFORMANCE
–  SAMPLE FACULTY-DIRECTED PROGRAM OVERVIEW –
PROGRAM OVERVIEW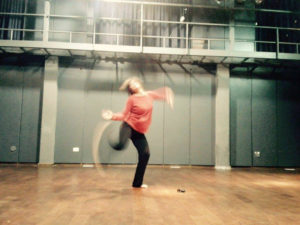 The contemporary dance scene in Buenos Aires is unique in many ways. The European influence (Belgian, French and German) dominates. Hybrid techniques lead with respect to pure techniques. Many of the key figures in Argentine dance have studied and worked in Europe, bringing back with them their different styles. Very few ensembles follow the aesthetics of classical modern dance, most prominently represented by the Ballet San Martin ensemble.  While the public University of Arts (UNA) has attracted an increasing number of researchers, teachers and practitioners, the field of contemporary dance remains heterogeneous and training, research and dance projects are spread over a large number of actors. Chronically underfunded, much of the artistic work is done in small groups, often loosely coupled, in "alternative" or "underground" settings, with minimal public subsidies and often nonexistent salaries. The results are excellent: argentine projects travel the world, Argentinians are sought-after dancers and performers, the projects are innovative.
In this program, we understand the essence of the Buenos Aires contemporary dance scene through a combination of theoretical classes, advanced contemporary dance technique classes, a composition workshop and attending performances. The program allows students to meet the important figures of the contemporary dance scene, practice with them and appreciate their productions. Students will meet researchers, art directors, choreographers, teachers and dancers and will develop their own dance project (individual/group) under the guidance of the faculty director.
PROGRAM LEARNING OBJECTIVES
To understand and appreciate a very particular contemporary dance scene and its ecosystem
To experience technique and composition classes in order to extend and enrich the students' artistic resources
To participate in the creation of a dance project in a foreign setting
To observe and analyze performances by selected local artists/ensembles 
ACADEMIC COURSE OFFERING(S)
With the support of the Institute for Advanced Studies in Latin America, the visiting faculty member will teach 1-2 academic courses for home institution credit. Potential course title suggestions may include the following:
Contemporary dance technique in Argentina
Contemporary dance composition in Argentina
OPTIONAL LANGUAGE COURSE OFFERINGS
The Institute can provide credit-bearing, Spanish language instruction.  Up to nine (9) proficiency levels of Spanish can be offered, for up to 1-credit hour per week (20 contact hours of 55 minutes each). If needed, academic credit may be awarded through the Escuela Superior de Economía y Administración de Empresas (ESEADE).
Although taught in English, students in this program are recommended to have at least one year of college-level Spanish.
CO-CURRICULAR LEARNING PROGRAMMING
Academic Field Study. Students are encouraged to develop their own dance project in Buenos Aires, which can be conceptual or a short performance, under the direction of the faculty director. Depending on the nature (individual / group) of the project, rehearsal space will be made available on a regular basis.
Academic Field Trips.The program will include visits to different theaters (official and independent) in Buenos Aires and La Plata to better understand the enormous variety of dance proposals and a 1 or 2-day visit to Montevideo, where students will meet representatives of the local dance scene there.
Guest Lectures.The program will include 4-5 invited guest teachers representing the variety of local contemporary dance orientations. Guests may include university professors, contemporary dance company leaders, individual performers, art directors, researchers, etc.
STUDENT SERVICES
Student Accommodation & Meals.Students can be housed either in hotels or selected host-families. Students selecting host families will be provided with a private bedroom. Although laundry services are not included, linen and towels are changed once a week. Students are served breakfast and dinner six days per week. No meals are provided for those staying in local hotels.
On-Going Orientation.Students will receive structured and on-going orientation support to improve their intercultural adjustment and cultural learning throughout the program. An initial introduction upon arrival will be followed by a series of cultural workshops and activities designed to facilitate cultural learning.
Cultural Activities. Students will be invited to participate in a series of cultural activities throughout the program. Activities may include visits to important cultural institutions and specific neighborhoods, and social activities such as local concerts, dance events, asadogrill evenings, wine tasting, etc. Some activities may be oriented toward more advanced speakers of Spanish.
PROGRAM SUPPORT
Classrooms facilities will be made available at the Institute for theoretical classes and guest speakers. All classrooms are air-conditioned and offer whiteboards, Internet access, a PC and overhead projectors. Differently-sized classrooms accommodate either 8, 15 or 25 students. Dance classes will be held either at UNA (Universidad de las Artes) facilities or in privately-rented spaces adapted to the objective of the classes.
Program Support.The Institute will appoint a local program coordinator to assist with the smooth operation and facilitation of the program. The institute has a 24-7 hotline for health and safety support, available in English and Spanish.